---
First of Ramadan on Saturday, May 27th
The Central Jersey Hijri Calendar Committee announced that first of Ramadan will insha'Allah be on Saturday, May 27th. The Ramadan moon was not sighted and 30 days of Sha'ban will be completed.

The Taraweeh prayers will Insha'Allah start tonight Friday, May 26th and the Isha Iqamah will be at 10:00 PM. The Isha Iqamah from the first of Ramadan (Sat, May 27) will be at 10:20 PM.

May Allah subhanahu wa ta'ala shower His mercy and forgiveness upon us and accept our ibadaat during this blessed month, ameen! MCMC wishes you and your family a very Blessed Ramadan. Ramadan Mubarak!
---
Iqamah in Ramadan
Fajr: 4:15 AM


Zuhr: 1:15 PM


Asr: 6:30 PM


Maghrib: 8 min after start of Maghrib time


Isha: 10:20 PM

---


Ramadan Schedule:

Click here to download MCMC Ramadan Schedule
---

MCMC Annual General Body Meeting has been rescheduled to Jul 30th after Zuhr Salah due to Ramadan.
---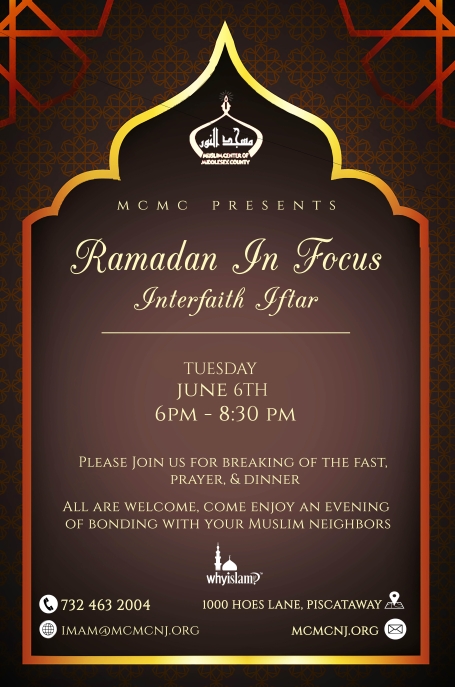 ---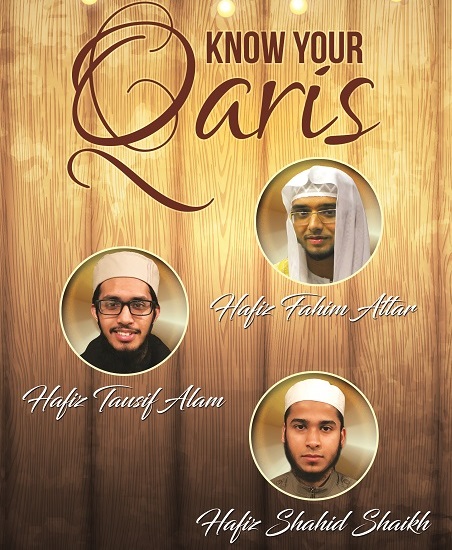 ---
Download MCMC Guide to RAMADAN
---
Daily Iftar:
Insha'Allah there will be daily iftar at MCMC:
Mondays and Tuesdays: Basic iftar arrangements
Wednesday and Thursdays: Iftar & Dinner sponsored by MCMC sisters
Fridays, Saturdays & Sundays: Iftar & Dinner sponsored by community members
Last 10 Days: Iftar & Dinner sponsored by community members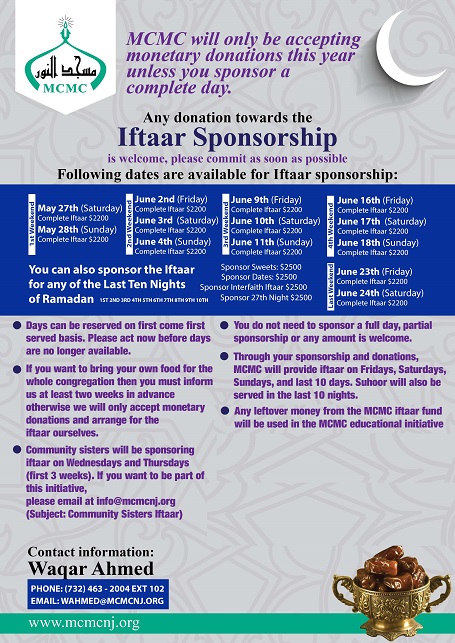 ---
Last 10 Nights:
There will be Qiyam, I'tikaf, Suhoor and additional programs and arrangements in the last 10 nights. More details will be announced later.
---
Zakatul-Maal, Fitra, and Sadaqah Fund: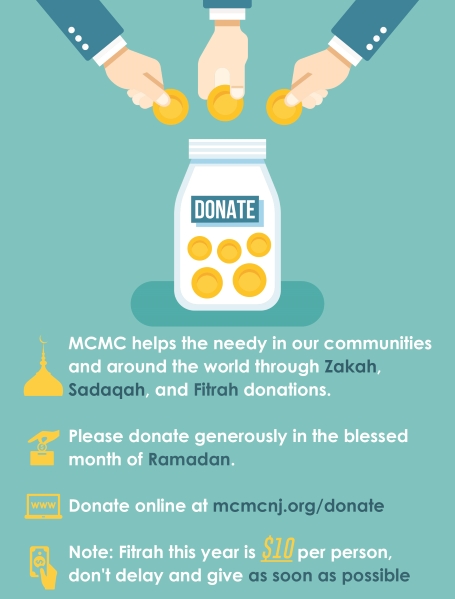 ---
Parking:
We require your cooperation to effectively manage parking during this month specially during Isha and Jum'ah prayers times.
Please follow the given instructions.
We have limited parking spots, please try to carpool specially for Isha and Jum'ah prayers.
Due to on-going construction, it is not advised to hangout outside of the main MCMC building.
Front parking should be used only by handicapped and elderly people. Please be considerate to others in this month.
Do not park in the handicapped parking spaces.
No double or illegal parking will be allowed and do not park in front of someone else's driveway. Violators will be towed at owner's expense.
---
---
---
Graves for Sale at the Marlboro Cemetery
Each grave costs $450

Process of buying:
- Fill out this form: Grave Documentation Form
- Submit this form along with the payment check
- Collect graves certificates on the given date
---
---
Other important events in the community
IMRC NJ 4th Annual Ramadan Benefit Dinner
On 28th of May at Masjid Wali at 5:30PM
Proceeds from this event will assist IMRC's 1000 Orphan Project in India
For information, contact Manzoor Ghori at (650) 856-0440